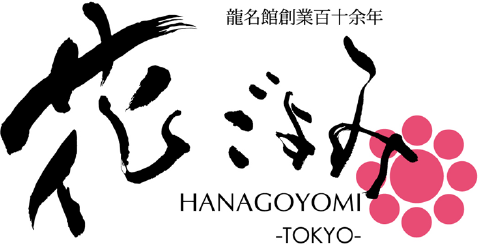 Lunch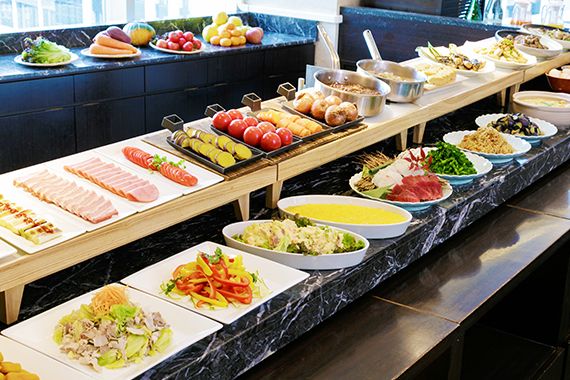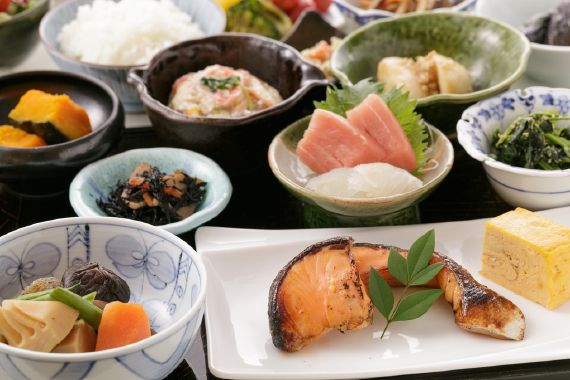 Tokyo Buffet
As Tokyo located in the center of Japan, it is possible to offer a variety of vegetables by taking advantage of the country's different climates and environments; a wide range of vegetables are available throughout the year.
We offer delicious Japanese and Western cuisine with fresh Tokyo vegetables in a buffet style carefully overseen by our chef.
Tokyo Buffet light (Weekday)
| | |
| --- | --- |
| Price | \1,500 (including tax and service charge) |
| Reservation | Not available |
| Opening hours | 11:00~14:00 (last order 13:30) |
| Remarks | Lunch buffet is limited for 70 minutes. |
Holiday branch "Tokyo Buffet " (Saturday and Sunday and holiday)
Price
\2500(including tax and service charge)
Reservation
Available
Opening hours
7:00~14:00 (last order 13:30)
Remarks
Lunch buffet is limited for 70 minutes.
We will not close between breakfast and lunch time. Free drinks, vegetable shabu-shabu, tempura are available. We offer recommended dishes available only for holiday brunch.
Lunch Kaiseki course (Reservation required)
Hiru-Kaiseki course \4,500

Ideal for lunch with your loved ones. Freshly cooked authentic kaiseki meals will be served one by one.
Please spend a relaxing time. This course is popular for business meetings, introductory meetings and girls' day outs.

前Appetizer, bowl dish, sashimi plate, grilled dish, simmered dish, meal, dessert (included 7 dishes)
Omakase wicker basket set \3,500

This is an ideal set when you want to spend your lunch time a little more luxury than usual.
We have a spacious private room. Please enjoy our colorful bamboo wicker basket meal set in a relaxing atmosphere.

Meals served in a wicker basket (Appetizer, sashimi, salad, simmered dish, grilled dish, side dish) Atodashi (Rice, miso soup, Japanese pickles, dessert)
Celebration kaiseki course \8,000~15,000

This course is ideal for those who use this restaurant for celebration. We offer 3 different luxurious courses which suit for your celebration day.
We use red snapper which is essential for celebration for a main dish of kaiseki course. Please use this restaurant for introductory meeting or any celebrations. (This course need to be reserved 3 days in advance.)
Opening hours
11:00~14:00 (last order 13:30)
*We only start serving from 11am to 12:30pm.
Private rooms
We have a sunken kotatsu private room at an additional fee of \3,000.
Remarks
Prices are included tax.
Information for dinner time
Information for dinner time

Information for dinner time

Deliciousness comes from ingredients. We select seasonal ingredients.
Sake selected by our sake sommelier, which go well with the dishes is available. We spend much time for preparation to serve the best dishes. Each dish prepared carefully is all for our customers' smile and we serve them at the best with hospitality.
We also offer sake carefully selected by sake sommelier that perfectly pair with the dishes.
Privilege for hotel guests
One drink or dessert will be served for free. Please choose one per person from the menu below.
Draft beer (Premium molts/ Yebisu)
Bottled beer (Asahi)
Glass wine (red/ white)
Seasonal sake (one cup 180ml)
Whiskey with soda
Soft drinks (Oolong tea, Coka-Cola, orange juice, grapefruit juice, ginger ale)
Dessert (Seasonal ice cream/ sake cake)
Dinner course
Kaiseki courses
Hanayagi kaiseki course \8,000

Menu: Appetizer, bowl dish, sashimi, grilled dish, simmered dish, side dish, rice, dessert
Yurugi kaiseki course (reservation required) \10,000

【Menu: Appetizer, bowl dish, sashimi, grilled dish, simmered dish, side dish, rice, dessert
Hanagoyomi kaiseki course (reservation required) \15,000

Menu: Appetizer, bowl dish, sashimi, grilled dish, simmered dish, fried dish, additional appetizer, side dish, rice, dessert
Shabu-shabu & Steak
Domestic-produced beef shabu-shabu course \8,000

Menu: Appetizer, sashimi, shabu-shabu (domestic-produced beef, vegetable, tofu), soba noodles, dessert
Domestic-produced beef steak course \8,000

Menu: Appetizer, sashimi, special salad, domestic-produced beef steak, rice, dessert
Ichijyu-Sansai set \3,300

Menu: sashimi, grilled dish, simmered dish, rice, soup, Japanese pickles
drinks
drinks

We have female sake sommelier at the restaurant so that we can serve various kinds of sake selected carefully from her unique gustatory sensation and different angles. As we change sake menu seasonally, customers will meet so many unique sake throughout the year.
Whiskey and shochu are also available.

All-you-can-drink ¥2,500

Bottled beer
Shochu (Wheat)
Shochu (Potato)
Red/White wine
Whisky
Whisky with soda
Plum wine

Hot sake
Cold sake
Oolong tea
Coka-Cola
Ginger Ale
Orange juice
Grapefruit juice
Opening hours
Weekdays,sat 17:30~22:00(L.O. 21:00)
sun,holiday 17:30~21:00(L.O. 20:00)
Private rooms
We have sunken kotatsu private room. (Additional charge 3,000 yen)
Remarks
*We will charge service fee.
*We have a la carte menus.
*Depending on the situation, menu may be changed
Reservation/Contact
03-3271-1135Telephone reception support 11am-9pm