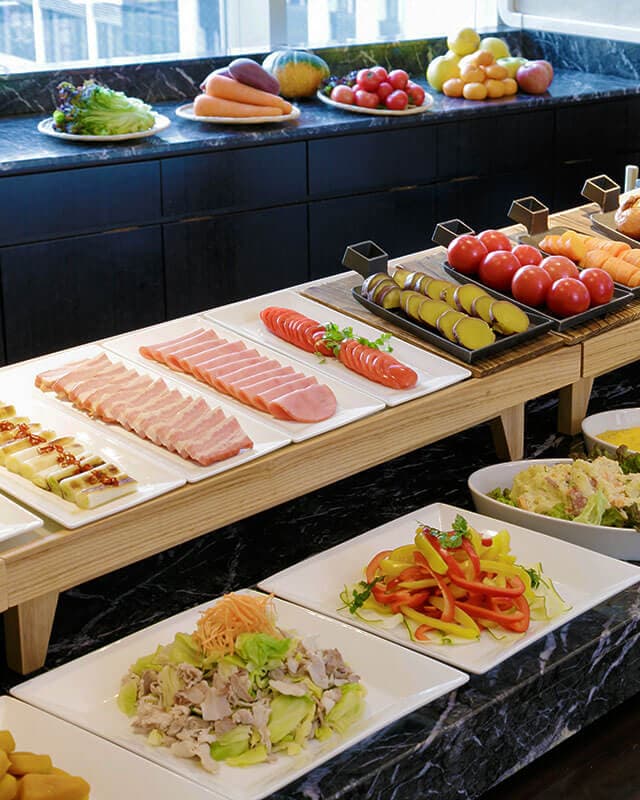 Tokyo Buffet

Our hotel's signature breakfast "Tokyo Buffet"
that you can enjoy plenty of Tokyo vegetables.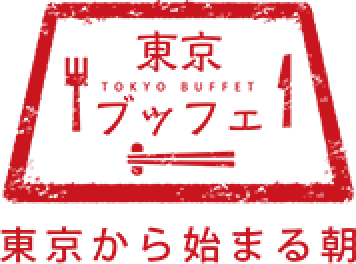 Tokyo Buffet
【Opening time】
Weekdays 6:45~10:00(L.O.9:45)
Saturday,Sunday,Holidays 6:45~14:00(L.O.13:30)
【Price】2,800yen

Our breakfast buffet is Japanese and Western style which makes you healthier.
Finally we have just restarted the buffet and we have added a new menu using Tokyo vegetables. We have sort of menus made from Tokyo ingredients with various cooking methods. Upcoming "Tokyo Buffet" is produced by Japanese chef with great care including a new menu made from Tokyo vegetables.

We are going to offer beautiful and fine Japanese cuisine by our chefs, Western cuisine suitable for diverse life style, and nutritionally balanced seasonal cuisine in buffet style. We hope you to have a first-class accommodation experience at our hotel with perfect breakfast.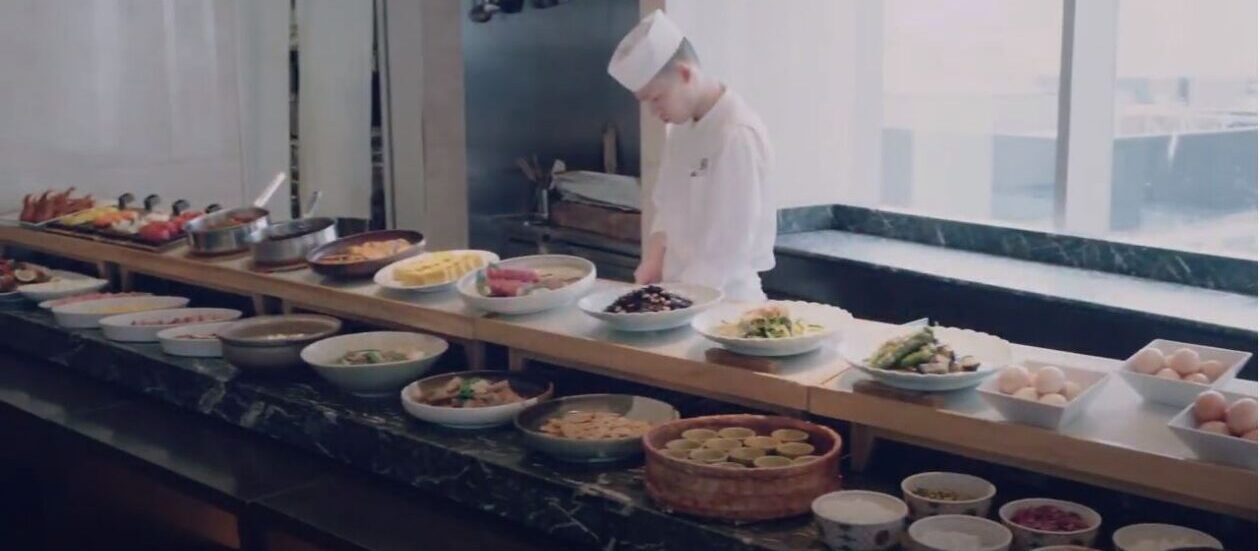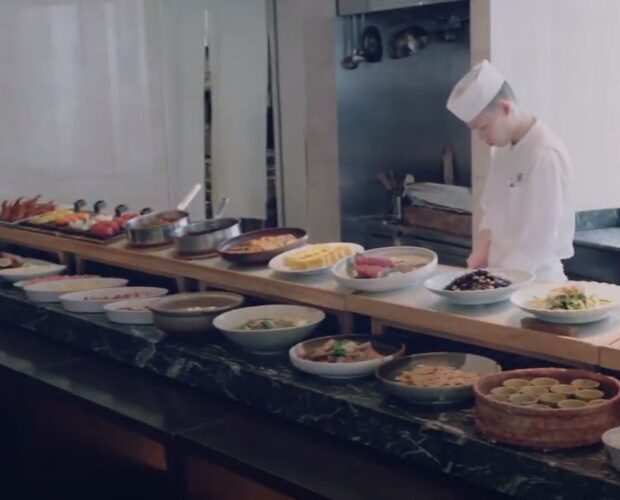 TOKYO BUFFET /
HOTEL RYUMEIKAN
TOKYO BREAKFAST
Tokyo Buffet's elaborate and recommended dishes
Japanese and Western cuisine makes you healthy

An ideal breakfast is a balanced meal of protein, which provides energy for raising body temperatures.The carbohydrates which are the power source for the brain, fats for endurance and vitamins, minerals and dietary fiber, which boost brain activity and regulate internal rhythms and gastrointestinal function. The delicious Japanese and Western cuisines carefully prepared by our chef are ideal for making a good life rhythm. Please enjoy a "splendid breakfast" that is one of the indispensable things for a first-class experience.
30 kinds of fresh vegetables that made in Tokyo

We have 30 kinds of salad vegetables such as Edo Tokyo vegetables, which are rare traditional vegetables.Also, Tokyo vegetables, which are characterized by the fact that they can take time and effort because producing areas are small-scale. You should try the "Homemade original dressing" with those vegetables.

Authentic Japanese food by a chef

Enjoy the delicious Japanese food produced by our chef, such as miso soup made with koji miso combined with soup stock from dried bonito and kelp, and handmade Japanese side dishes using seasonal ingredients. Also, please enjoy the sashimi.
Original taste of vegetables

Taking advantage of the characteristics of each vegetable, we have created a product that allows you to fully enjoy the taste of the ingredients. We also recommend grilled vegetables that bring out the sweetness and monthly menus that use seasonal vegetables from Tokyo.
Special tamagoyaki

We use "Hachioji" egg of domestic chicken that grows on pesticide-free vegetables using natural groundwater in Hachioji City, Tokyo. A special tamagoyaki (omlet) made by the head chef, who has been protecting it for 25 years. Please enjoy the freshly made tamagoyaki cooked by the chef at the counter.
Photo Gallery





※Limited quantity
We have created this buffet with Japan's best breakfast chef, Mr. Atsuo Yabuki as an advisor.

We have created this buffet with Japan's best breakfast chef, Mr. Atsuo Yabuki as an advisor.

Tokyo buffet at Hotel Ryumeikan Tokyo provides not only simple nutrition, but also a breakfast that satisfies both your body and mind to start your day.A wide variety of healthy side dishes with a blend of Japanese and Western flavors are available for your enjoyment.

Atsuo Yabuki
Ryumeikan Breakfast Advisor
Tokyo buffet outline
Opening time
Weekdays: 6:45-10:00 (L.O. 9:45).
Saturday,Sunday,Holidays: 6:45-14:00 (L.O. 13:30).

Location
Hanagoyomi Tokyo, 15th floor of Hotel Ryumeikan Tokyo
>>Click here for access information
Seats
44 seats
Price
2,800 yen/person (tax included). Children under elementary school age are free.
For the guests who have allergies
If you have any allergies, please ask the front desk staff when you check in. We will do our best as much as we can.
※Hotel Ryumeikan Tokyo Food Allergy Policy,Please,click here for details.
For the guests with children
Children's plates and forks are available.
Feel free to let us know, and we will do our best for your needs as much as we can.
In order to prevent accidents, strollers are not allowed in the restaurant.
We ask for your understanding that you will be asked to leave your stroller holded in the restaurant.
In additon, we are able to offer children's chairs, so please let us know if you need.
Reservation/Contact
       

+81-3-3271-113511am-8pm(Restaurant Hanagoyomi Tokyo)