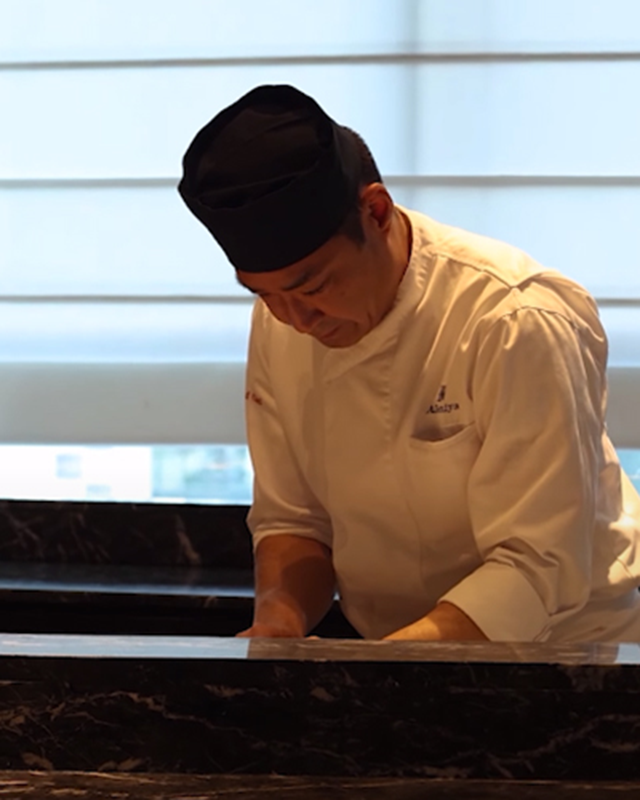 Introduction of the head chef

Akira Zeniya
Introduction of the head chef
Introduction of the head chef

After graduating from Hattori Nutrition College, Akira Zeniya joined Ryumeikan in 1998.
For more than 20 years, he gained experience serving as assistant head chef and head chef at our other restaurants before becoming the head chef at our flagship restaurant, Hanagoyomi Tokyo, in April 2020.

-Work at Hanagoyomi Tokyo-
Chef Zeniya focuses on "local production for local consumption" for our Tokyo Buffet, which is available at breakfast and lunch and offers a variety of dishes using fresh, local seasonal ingredients from Tokyo. With a desire to have people eat more vegetables, the dishes are prepared using various cooking methods.
For dinner, he offers traditional kaiseki multicourse meals with carefully selected ingredients, using cooking techniques that best bring out the full flavor of each dish. All of our food is carefully prepared to add color to and inspire diners. " I think cooking is similar to math or science. It's interesting because you can do addition and subtraction and even make many combinations like chemical formulas," he said.
Message
We value the traditions and techniques we have accumulated over the years, and we cook to delight our customers and bring out their smiles through our food. If you would like to use our restaurant for a celebration or an important dinner party, please let us know your ideas and requests.
Based on your request, we will consider what kind of dishes are most suitable and try to accommodate you.
We hope that you can experience the change of the seasons through Japanese cuisine and enjoy it wholeheartedly at our restaurant. We are looking forward to your visit.
Below is footage of head chef Zenia cooking.
Reservation/Contact
+81-3-3271-097110am-8pm